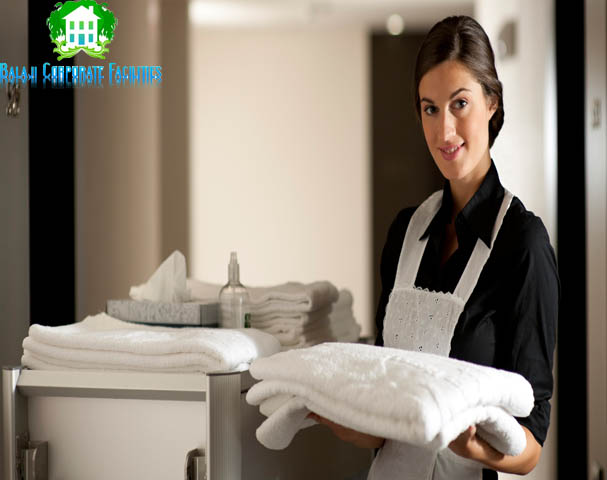 All guest house service providers in Delhi face certain challenges while undertaking the services they are expected to provide. Certain challenges are trivial and are easily overcome but there exist specific problems that require experienced assistance either in handling situations that might arrive or the need for guest house management services in Delhi to prevent these situations from actually happened. This is where Balaji Corporate Facilities steps in.
Balaji Corporate Facilities proudly offers workers specifically trained by individuals with sufficient years of experience in their respective fields. More about Balaji Corporate Facilities will be mentioned later. Day to day challenges faced by Guest house management services in Delhi shall be mentioned immediately, followed by an explanation for the need for professional along with the solutions to these problems.
Unprofessional behavior
Violation of privacy, negligence, rudeness and discrimination are the challenges faced in this sector. It is not uncommon yet thoroughly unprofessional to find guests seeking out house help services for some other purpose. Maybe the hot water system is not working? Maybe water has still not been brought to the clients after repeated requests? This is a failure on the part of any decent guest housekeeping services in Delhi. Guest house housekeeping services in Delhi or rather anywhere else should ensure that household help is available at their beck and call.
Sometimes the guests might return to their rooms and find it in poor condition. Guest house housekeeping services in Delhi offered by Balaji Corporate Facilities is top notch and ensures that the staff employed to keep track of the rooms that are vacated temporarily and send employees for immediate maintenance and cleaning. Sometimes conventional employees go overboard and in their enthusiasm, they end up harassing the clients and at times even subject them to rude behavior. Guest house cleaning services in Delhi offered by Balaji Corporate Facilities ensures that the above doesn't happen.
Larceny and associated behavior
It is a controversial issue but there have been cases reported by clients about their articles being stolen from their respective rooms. Keeping in mind that larceny or petty theft is not an intention of the management, the issue indicates a lack of trust between the employers and employees. Guest house providers in Delhi are rendered notorious because of this issue. Thankfully, Balaji Corporate Facilities, one of the leading entities that provide guest house maintenance in Delhi, have no such issues reported as a consequence of their services. Security deposits made at the time of booking are not acknowledged or simply claimed to have been depleted via hidden charges. This is just as guilty as simple theft. Guest house service providers in Delhi need to compensate for these accusations by providing reliable and efficient workers. Thankfully Balaji Corporate Facilities once again manages to provide top notch workers which are reliable and provide satisfactory services.
The company
Balaji Corporate Facilities is one of the leading organizations in Asia Pacific that provides the following services in but not exclusive to Noida. Balaji Corporate Facilities provides guest house cleaning services in Delhi. The range of staffing services in Delhi includes but not limited to housekeeping, support staff and management officials. In addition to providing staff, support staff and guest house maintenance in Delhi such as technicians, carpenters and so on, Balaji Corporate Facilities also the leading provider of security guard services in Delhi.
Starting out with a team comprising only of 2 members and founded by Mr. Sohanpal Tomar in 2016, the company Balaji Corporate Facilities expanded and now has 1000 permanent employees.