In today's modern and fashionable world there is a growing need for tissue papers everywhere. In this busy life and hectic schedule, no one has enough time to wash hands with water. Sometimes water is not available and you can't carry it along with yourself. With using water comes many problems such as drying yourself, preventing your dress from being spoiled and much more. Most importantly water is being saved if we are using tissue papers. In the past few years, tissue paper business has geared up. One of the leading tissue paper suppliers in Ghaziabad is the Balaji Corporate Facilities. Tissue suppliers in Ghaziabad are known for their quality of products and Balaji Corporate Facilities are one of the best tissue paper suppliers in Ghaziabad.
Balaji Corporate Facilities are a very well-known tissue paper dealer in Ghaziabad. Tissue suppliers in Ghaziabad often purchase products from them. They have a wide collection of tissue papers. Their vision and mission are to strengthen their position as a tissue paper provider in Ghaziabad. Their collection includes premium tissue paper products like face tissues, paper napkins, kitchen rolls and bathroom rolls. They provide several packages to suit our needs. They also provide a custom package where the buyers can choose what is printed on the tissues.
Various tissue packages offered by the Balaji Corporate Facilities:
Reshmi: This package includes tissue papers that are soft and gentle on the skin. This includes tissue papers for the sensitive parts – face tissues and bathroom rolls. These tissue papers come in a wide variety of colours and prints. This is the cheapest package offered by them.
Exotic: This package has tissue papers that are internationally popular and marketable. These types of tissue papers are very soft and have a greater size as compared to the Reshmi tissues. This type of tissue comes in all varieties like face tissues, bathroom rolls, kitchen rolls and paper napkins. These tissue papers are generally expensive and are available in all different colours. This is one of the bestselling packages offered by them.
Custom: This package includes blank tissue papers. These tissue papers get printed as per the customer's' needs. They are custom made to fit the occasions. Mostly, these tissue papers are used in ceremonies and functions and offer a great display of the customer's' decoration. These are the most expensive types and are even decorated with materials.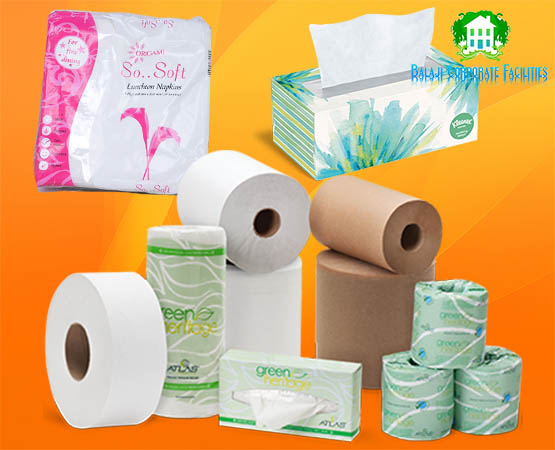 Conclusion
The Balaji Corporate Facilities have rooted themselves as a good tissue paper dealer in Ghaziabad. All this comes at a cost. They care about their customers and cater to their needs and requirements. They are continuously innovating and improvising their products to meet the growing advances and demands. They really deserve to be the best tissue paper provider in Ghaziabad.