Overview of the company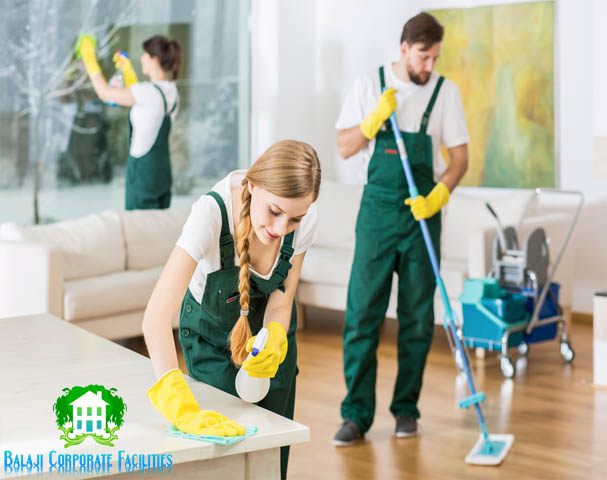 Balaji Corporate Facilities takes pride in being the most reliable provider of housekeeping services, support staff services, and facility management solutions, since 2016. A team of professionals and extremely dedicated work attitude has contributed to our worth of being the leading cleaning services provider in Ghaziabad.
Apart from providing cleaning services, Balaji Corporate Facilities also supplies security guards for commercial, residential, industrial, hospitals, hospitality, events, malls etc. The range of services that Balaji Corporate Facilities provides is supremely reliable and wallet-friendly. Zero compromise in services is their aim and motto.
Apart from these, their cleaning services have earned a credibility and name for themselves by assuring the quality cleaning of various infrastructures that it has worked for. The previous clients have shown their trust and satisfaction towards our team of experts.
Why our cleaning service
The utmost peace lies in the clean surrounding. It's not pleasant to live in or work in a place that is not clean. This cleanliness might take toil over your energy and time. Balaji Corporate Facilities is here to make your cleaning tasks relaxing and comfortable. With our cleaning service, you could be assured of 360-degree cleaning protection. Not just that our range of cleaning services is vast and we provide this service in every corner of your home or office.
Vast range of services
Being the leading cleaning services provider in Ghaziabad, Balaji Corporate Facilities makes sure to facilitate its service from living room to the bedroom, from bathroom to the kitchen, and from floor scrubbing to car cleaning services. For all specific areas specific researched and knowledgeable cleaning solutions are employed. There is no compromise with the quality of cleaning and utmost care I provided to not harm the quality of your floor tiles or room mattresses etc. specific cleaning tools are used for specific narrow or heightened locations of your house.
Balaji Corporate Facilities also provide office cleaning services and has a dedicated team of experts that is ready to work at your preferred time. We also engage ourselves on weekends, so that your office work hours do not get interrupted. We are flexible as per our client's timings and budget.
As this cleaning service is becoming professional, a lot of cleaning services in Ghaziabad are stemming out. Despite the competition, Balaji Corporate Facilities has successfully retained its name due to its dedication and quick customer response. Since it commencement, it has proved its worth in its field and will continue providing quality at reasonable prices.
Cost effective and quality service
Compared to other cleaning services in Ghaziabad, Balaji Corporate Facilities has always kept its prices lower and quality higher. It provides customer-centered services. The prices are negotiable and reasonable. We hire an expert and experienced crew of workers who understand cleaning service in and out.
With this fast paced and ever busy life, everyone feels that there is lesser and lesser time available for cleaning, therefore Balaji Corporate Facilities has come up to provide you ease from these cleaning tasks. We clean your house like our house and makes sure that we make your house and offices a neater and cleaner place to live in